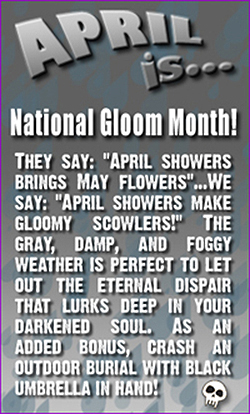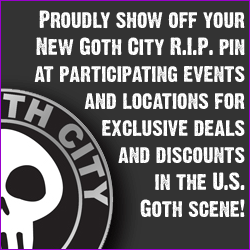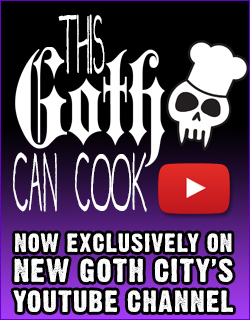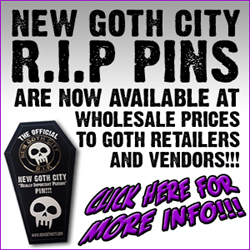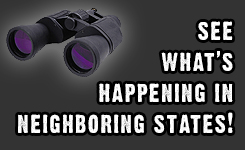 - ALABAMA -
- ARKANSAS -
- GEORGIA -
- KENTUCKY -
- MISSISSIPPI -
- MISSOURI -
- NORTH CAROLINA -
- SOUTH CAROLINA -
- VIRGINIA -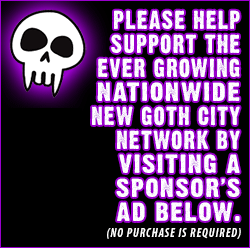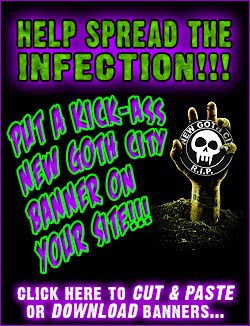 Disclaimer: All listing information is subject to change. Please check with linked official website and/or Facebook page.
NewGothCity.com is not responsible for any last minute changes in times, dates, prices, age restrictions, cancellations, etc. 

WEDNESDAY, NOVEMBER 29th -





A NIGHT OF FREE SPEECH @ Twin Kegs II
SPECIAL EVENT: OPEN MIC SPOKEN WORD EVENT
Location: 327 Hermitage Avenue       map & directions
Hours: 7pm - 10pm    

  Ages:

18+/21+ to drink (with I.D.)

         Admission: FREE!!!
Dress code: None





FASCINATION STREET @ The East Room
MONTHLY EVENT: GOTH/POST-PUNK/DARKWAVE NIGHTCLUB EVENT
Location: 2412 Gallatin Avenue       map & directions
Hours: 9pm - 3pm    

  Ages:

18+/21+ to drink (with I.D.)

         Admission: FREE before 10pm  /  $5.00 after
Dress code: Not enforced but proper scene attire is encouraged and expected.





BELL WITCH CAVE
Location: 430 Keysburg Road      map & directions

What to expect: Historical haunted sight and paranormal folklore: "The Bell farm and Cave is in a secluded area in Adams, Tennessee and it is a very beautiful representation of the state of Tennessee with it's rolling green hills and farm land. If you are interested in paranormal activity or if you are a history buff then the Bell Witch Cave and Farm will definately not dissapoint."


     


RUBY FALLS CAVE
Location: 1720 South Scenic Highway     map & directions

What to expect: If you take the Chattanooga Choo-Choo just above the Tennessee/Georgia border, then find Ruby Falls, close to the Tennessee River. This marvel is an underground waterfall that they light up like the most amazing Goth nightclub you can ever imagine!





ROCK-A-BILLY HALL OF FAME
Location: 105 N. Church Street      map & directions

What to expect: OK…this one is for all of you Goth-A-Billy/Psychobilly types! This quaint museum, located somewhat between Nashville and Memphis, is home to a fine collection of memorabilia, artwork, and all sorts of historical stuff! They also have live music every Friday night as well as host an annual Rock-A-Billy Festival when it inducts new honorees into the Hall of Fame!


     


JACK DANIELS DISTILLERY TOUR
Location: 280 Lynchburg Highway     map & directions

What to expect: Tour the historic distilleries of one of America's most famous Whiskies…but be forewarned, this distillery is located in Moore County, which has been a dry county since 1872 (translation: NO DRINKING BOOZE ALLOWED!). However, if you choose to pay a little bit more for the Flight of Jack Daniels Tour, you will be allowed 3 tastings…if you are over 21 years old, of course!


     


   


RUGBY COLONY
Location: TN-52     map & directions

What to expect: A failed utopian experiment for British expats from 1880 in the American South is now a Victorian village frozen in time.


 


FORBIDDEN CAVERNS
Location: 455 Blowing Cave Road      map & directions

What to expect: Now, while the State of Tennessee is dotted by scores of impressive caves, Forbidden Caverns takes the experience to the next level by guiding you through an amazing light and sound show within the caves that just might make you believe that you are actually in Oogie Boogie's lair from A Nightmare Before Christmas!!! Explore the Grotto of Evil Spirits and The Grotto of the Dead...but be warned...bring a warm clothing because it is a constant 58 degrees down in the depths!
Want to list your Gothic event, establishment, or attraction on New Goth City for FREE???

Simply invite Sir William Welles to your event's page on Facebook, send him details on a Facebook message, or send him your details on an email via: GetListed@NewGothCity.com!
(Events, establishments, and atttractions only located in the United States are eligible and must strictly be geared toward the Goth and Alt lifestyles...hence, your event WILL be reviewed before being listed.)
BACK TO TOP