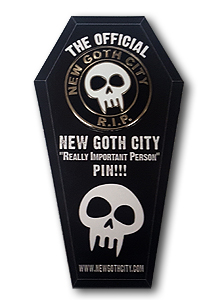 The New Goth City R.I.P. Pin Promo is an ingenious promotional endeavor, created by Sir William Welles, which not only benefits locally owned Goth lifestyle geared "brick & mortar" stores and establishments, Goth event organizers and promoters, and Goth individuals alike, but also creates a network that uniquely supports the Goth and Alt scenes on a nationwide level!
With one simple, yet distinctive and highly sought after lapel R.I.P. (Really Important Person) pin, we can solidify and energize the entire Goth scene across the entire United States! The way that this beneficial system works can be explained in the next few easy steps:
New Goth City has had manufactured very high-end quality cloisonné official lapel pins and they are sold at wholesale prices to stores, shops, vendors, and other various small business establishments across America that cater specifically toward a Goth and Alt lifestyle clientele. 


For those locally owned shops that carry and sell R.I.P. pins at the suggested retail price, New Goth City will highly publicize their establishment via the New Goth City website, social media, and other commercial outlets for free. This, in turn, will inform and drive those seeking to purchase an exclusive R.I.P. pin to visit the particular store near them, or along their travels, in hopes to discover the store's other amazing merchandise and thus further support their small local business that supports the Goth scene.


Now, for those individuals who visited a participating store and purchased their very own R.I.P. pin, they will not only possess and wear an awesome pin, but it will literally pay for itself soon enough as the pin also doubles as a membership card or coupon offering the wearer discounts, benefits, and/or gifts at participating Goth scene events and establishments all over the United States!


The last step in the R.I.P. Pin Promo falls on to New Goth City encouraging  and enlisting the promoters, organizers, and owners of Goth events and establishments to participate by offering (completely of their choosing) a discount, benefit, or gift to any R.I.P. pin wearer that show up. Nothing is too large or too small. It is totally up to the event organizers to decide and determine what they are comfortable offering to those who attend and present the R.I.P. pin at their event or establishment. In return, New Goth City will, once again, prominently feature and advertise the participating event on NewGothCity.com, social media outlets, and other forms of publicity, completely for free! This will, in turn, inform and drive more attendees to those events or more foot traffic to establishments, especially from people visiting from out-of-town, out-of-state, or even those visiting us from overseas!
This unique promotion has been carefully and meticulously designed to profit everyone involved…whether you are selling the R.I.P. pins, wearing one and taking advantage of its many benefits, or drawing more attendees to an event/establishment because of a special offering or exclusive gift…together, we can and will unify our Goth scene on a nationwide scale, one R.I.P. pin at a time!!!
For more information, questions, and/or comments, please send us an email at: RIPpin@newgothcity.com.